General Procedure to book Platform tickets online: Platform Ticket Online 2023, How to Book Platform Ticket Online. Book Platform Ticket Online IRCTC. Step by Step guide to Book Platform Ticket Online
Platform Ticket
Indian Railways has evolved from manual ticket issuance to digital systems. The Company works to establish strong systems that cater for millions of users remotely. This allows passengers to book, cancel, view or reschedule their travel details without visiting the railway station. Today commuters can register on the IRCTC website and connect Rail app using their mobile or computer device. The process is simple and defined and doesn't require professional skills.
There are multiple ticket booking services based on the user's preference. Travellers can opt for different seats and tickets ranging from:
A/C classes: Executive chair class (EC), first class (1A/C), two-tier class (2AC)
Non- A/C condition classes: first class, AC chair class, sleeper class, second class, general class
Tatkal
Premium Tatkal
All tickets are unique and allow passengers to avail quality service from Indian Railways. It's easy to book any seats online or through a counter system.
The Indian Railway Company goes further to introduce platform tickets online for fast booking. Platform tickets are types of rail tickets that allow ticketholders to access railway station platforms. However, the user cannot board or use the train services using the ticket.
Platform tickets help people to escort their friends and families to the passenger car at the station. Individuals willing to pay and book a platform ticket can book online. Access to railway platforms without platform tickets calls for huge fines from the railway departments.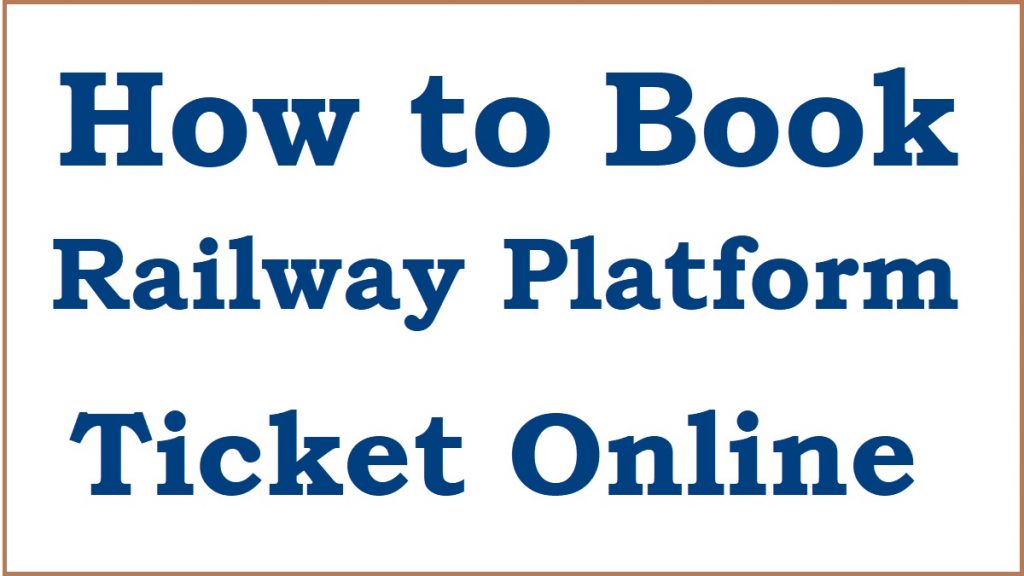 How to Book Platform Tickets on UTS APP
Steps to book platform tickets online using UTS
The UTS is a popular online system that helps with online ticket booking for unreserved compartments and platform tickets. Ticket users need to download and install the app on their mobile app.
Go to your App store or Google Play store.
Search for the UTS app and select the first option.
Click the download button to avail the app on your device.
Once downloaded, click the install and open tab.
Complete the registration steps to proceed.
Select the menu icon (three dots) or login button to access the account.
Next, create your login user ID by pressing the "Register" button.
Use your registered mobile number to get a user ID. However, for an existing user, enter your credentials to log in.
Choose the "platform tickets" option > "book and print (paper" to get the platform ticket online.
Note the ticket is valid once it's in print format.
Select the "station name and code, person and payment option.
There are different payment modes, such as E-wallets, debit cards, UPI, credit cards, and net banking. The system allows users to book up to 4 tickets online.
Review the information and press the "Book ticket" tab.
Next, print the ticket to get a copy for reference.
Platform Ticket Price
Platform tickets are affordable and easy to retrieve online. The prices are similar whether booked online or at the counter. The price of a single platform ticket is ₹ 10 for all stations (junction or Halt). However, there is an increase from ₹ 10 to ₹ 30. This happened during the Covid-19 pandemic to discourage crowding at the station. Most metropolitan stations hiked the prices from ₹10 to ₹ 50. The actual price is ₹ 10 on normal days.
Features of India Railway Platform Tickets
Platform tickets allow the user to access the Indian railway's platforms.
The ticket prices are ₹10.
Individuals without a platform ticket or expired ticket will get a fine of ₹250.
All Indian Railways stations are accepting platform tickets.
Most tickets are valid for 2 hours from the issuing date and time on the ticket.
The ticket holder cannot cancel or request a refund for platform tickets.
It's possible to book up to 4 tickets in a single booking.
No one should board the train without a ticket.
FAQs
Who is eligible for platform tickets?
Individuals aged 17 years and above can book a platform ticket online or offline.
Can I book platform tickets on the IRCTC website?
No, the service is available on the UTS app only.