How to book vistadome coach train ticket online. Vistadome Coach ticket price. Vistadome Train Booking, Price. Best insights of Indian Vistadome Train Coaches.
Vistadome Coach
India is not only known for its holy temples, shrines, fantastic food, massive population, and classical dances, but it also contains natural landscapes and sites that capture people's attention. The Western Ghats are the most famous attraction sites that start from River Tapti in the North of Mumbai and terminate in Tamil Nadu at the Southern tip of India. Animals like Nilgiri Tahr dominate in the Western Ghats that captivate passers-by.
To experience the vast and incredible features, Indian Railways has introduced exclusive Glass Vistadome trains. Vistadomes are fancy trains that ensure that passengers relish the spectacular scenery outside. Their lavish rotatable seats, large glass windows and roofs, charging sockets, and a Wi-Fi-based system for people working with laptops and mobile phones. Vistadome coaches are also written in braille for visually impaired passengers, making it a comfortable place for them.
Vistadome Train Booking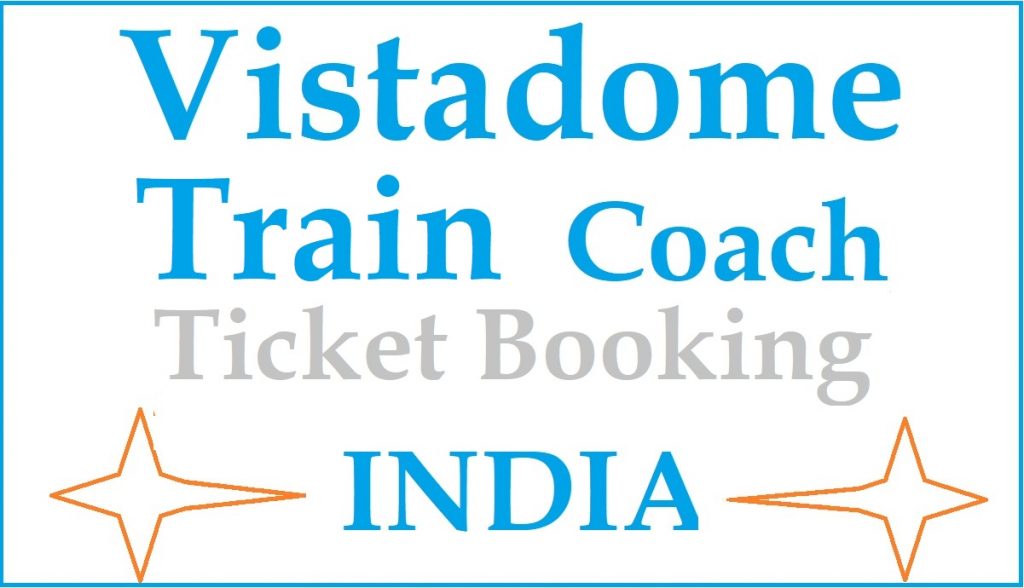 How to Book Vistadome Coach
Process of booking Vistadome coaches on the IRCTC Portal
Log into the official website of IRCTC via https://www.irctc.co.in/nget/train-search
Key in your username, password, and the captcha mentioned.
Give out train journey details like; date and time of travel, from and to your destination, and category.
Tick your preferred tickets, such as the AC chair car or executive chair car, and unmark the rest of the classes. The ticket fare details will be revealed to you.
Select the "book now" option under the availability option.
Next, click on the passenger details, review the booking, and go through the payment options you will have booked.
Features and Benefits of Vistadome Train Coaches
Traveling in staffed vehicles discourages many travellers due to diminished windows which limit their view of the outside environment providing unfavorable conditions. Indian railways have introduced fancy Vistadome train coaches comprising of spotless, large glass windows which are opalescent hence providing magnificent views, glass rooftops with anti-glare screens for healthier viewing of the sky, hanging LCDs, and automatic sliding doors. Train ticket does not cater to food, however, vistadome has snack tables and a mini pantry.
There is free Wi-Fi-based systems and charging sockets mainly for people working with laptops and those with mobile phones. Furthermore, the vistadomes have 44 comfortable and flexible seats which rotate 360 degrees. The toilets allow passengers to relieve themselves, especially during long journeys. The travelers are well entertained by live dance shows and fashion shows containing alpaca garments.
Destinations of The Vistadome Trains
Travelling in Vistadome coaches is one of the most memorable moments as they pass through waterfalls, natural landscapes, humongous mountains and rivers, and other scenes,
Migratory birds and barking deer in Doors, West Bengal
Sand beaches and Portuguese architecture in Madgoan, Goa
Orchard, waterfalls, and tunnels in Araku valley, Andhra Pradesh (AP)
Legacy monuments and booming culinary scene in Pune, Maharashtra
Delicious cuisine and India's cleanest beaches in Mangalore, Karnataka
Ticket Price of AC Vistadome Coaches and Conditions
Fare
The ticket price of the AC Vistadome Coach is 1.1 times of executive class ticket price of the Shatabdi train.
Charges like superfast surcharge, reservation fee, and sound and service tax are levied separately.
Repay Rules
Normal termination and refund rules in the executive class are also applied here.
The existing fare structure applies to all vistadome coaches and the newly added ones except those passing through sections where Heritage Directorate has authorized DRMs to accept tariffs.
FAQ'S
What are Vistadomes?

Vistadomes are fancy trains that ensure that passengers relish the spectacular sceneries by providing suitable views since it has large glass windows and roofs.

What are the features of Vistadomes?

The Vistadomes have lavish rotatable seats, large glass windows and roofs, charging sockets, and a Wi-Fi-based system especially for people working with laptops and those having mobile phones, and also written in braille for visually impaired passengers.

How can I check my Vistadome train number?

The train number is located in the middle portion of the ticket immediately below the information about the coach, gender, and berth.